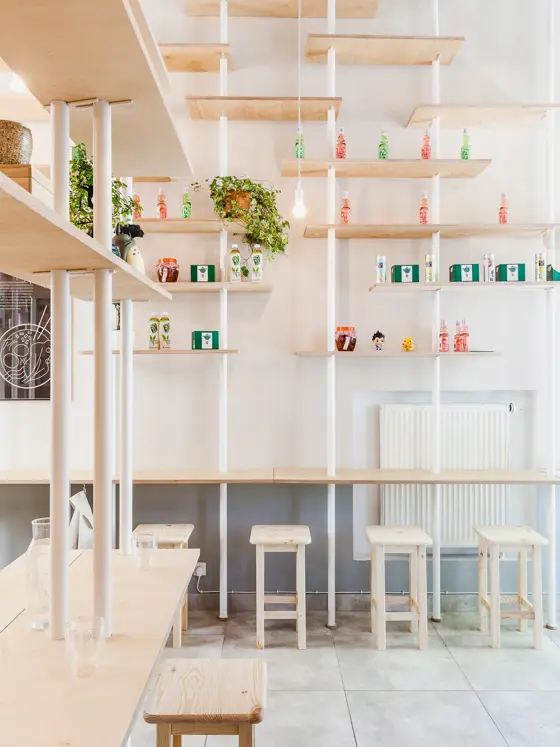 Rumor has it that Warsaw is the capital of plant-based cuisine. And let us confirm – the rumor is true!
Poland's biggest city has been declared one of the most vegan friendly cities in the world according to Happy Cow – the distinction that has prompted us to create a guide to the most luscious and colorful vegan and vegan-friendly restaurants in Warsaw. But here comes the warning – you should call room service right away as you are more than likely to be starving once you're done reading this piece!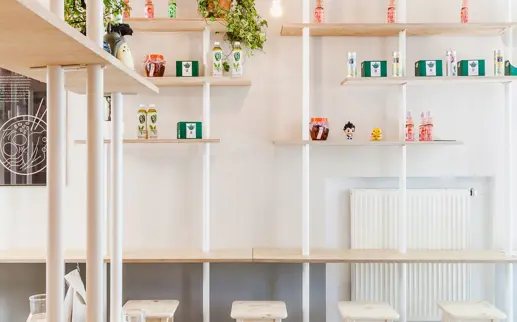 Flavors of Asia
Ramen took Poles' taste buds hostage quite a while ago, but the hidden potential of plant-based umami has been discovered only recently and brought to the attention of the public by Vegan Ramen Shop – famous among vegans as well as carnivores. And even though the alchemy of ramen seems rather complex and arcane, a limited selection of four soups makes it much easier to grasp. Choose from spicy miso, clear shoyu, creamy shio and tantan-men – each offering a diversity of mild and spicy flavors, be they of mushrooms or sea food, enriched with miso, variety of oils, or in the process of fermentation. Enjoy your pick with delicious wheat pasta and a range of toppings brought straight from the country of cherry blossoms.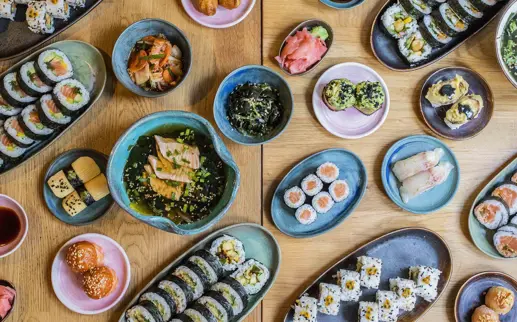 Sushi is rice, but Youmiko Vegan Sushi prioritizes vegetables cultivated in local and exotic areas – serving them fresh, in proper temperatures, and in a diversity of configurations – the meticulousness of which is the most visible in the case of omakase – a feast full of surprises. The sushi master selects the finest pieces of vegetables and other ingredients available on a given day and serves them to you in the form of 18 pieces for PLN 69 (+ a 30% Monday discount) – quite a treat! You can choose how you want your rice and extras served or select from specific sushi sets for individuals or groups. Also, you can warm up with a bowl of ramen or enjoy an appetizer such as miso, kimchi, edamame or vegetables in tempura batter. From Monday to Friday you can compose your own lunch set. Soon, the second location will be opening in upper Mokotów.
If you want to check out other vegan sushi spots, we do recommend Edamame Vegan Sushi. But if you happen to be more of a Chinese or Thai cuisine aficionado, you should definitely try what Soy Soy has to offer. The menu includes evergreens typical of the two cuisines, with occasional appearances of dishes from neighboring countries. As you read this, noodles are being fried in woks, simmering in tasty sauces; wontons are made promptly, and creamy curry is being ground into masala. For those willing to try chef's most famous dish, the secret word is "nibykaczka"!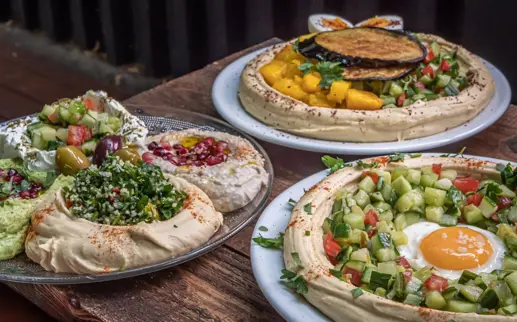 The Middle East
Mezze reminds of a puzzle that changes depending on the elements you choose, including hummus, falafels, eggplants, olives, eggs, pitas, and many more. Brought together, regardless of configurations, they evoke the atmosphere of Israel and enchant with the richness of colors. It is worth remembering that, while the menu is fixed, lunch sets (soup and main course) change on a daily basis.
If aromas and tastes can build bridges, they certainly do so in the case of Tel Aviv Food & Wine and its five locations, run by Malka Kafka, that take you instantaneously to the world of oriental flavors. Enjoy different takes on hummus, shakshouka, salads and oatmeal in the morning, or come for dinner and revel in the taste of tagine, harira soup, or moussaka. You can also try sunny and spicy street food options such as pitas or burgers. For those of you having a sweet tooth, Tel Aviv offers crumble, kanafeh, and baklava. And don't you worry about drinks – perfectly chilled vegan and eco wines are in plenty. Each location is open until late in the evening, so there's no need to rush!
Italian flair
Leonardo Verde was born out of love for plants, Italian cuisine, and art. As you probably expect, the menu offers plenty of pizza and pasta that can be served gluten-free depending on your wish! Also, each season of the year has a dedicated selection of dishes and beverages, and, all year long, weekends are for breakfasts that taste best with a glass of prossecco!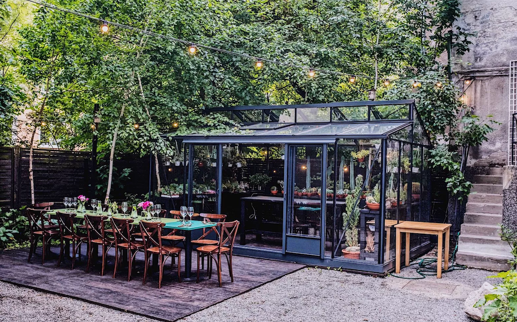 Plant fusion
Let Ósma Kolonia take you on a trip around the world with dishes such as onigiri with carrot and parsley in tempura batter, bibimbap, guacamole with nachos, spelt flatbread with kimchi, marinated raddish and baked oyster mushrooms, or Pad Thai. Each dish features ingredients of the finest quality, most of which come from local producers such as, among others, Pan Ziółko, Ludwik Majlert, Kozia Farma Złotna, or Droga Mleczna. This visible reliance on local products is part of the ethos of the place, according to which food is the basics of our well-being. Look out for dishes of the day from Monday to Friday and never refuse a glass of wine – all organic and eco-friendly!
Eden is a beautiful place about to electrify plant-focused senses of everyone who appreciates Warsaw's modernist architectural legacy. Housed in one of the historic villas, this vegan bistro founded by the food- and culture-focused Usta Magazine serves breakfasts – enjoy a bagel early in the day with a cup of coffee from a specialty coffee roastery Czarna Fala – brunch sets changing on a daily basis (main course, dessert, lemonade), dinner, and supper. As you eat, you are bound to find yourself traveling to France, Mexico, Korea, Vietnam, Japan, India, or the Middle East. It is also worth taking a closer look at the drink selection, however, because it includes not only natural wines – with orange variations and Pét-Nats – but also infusions from Polish herbs, fruity smoothies and refreshing beverages from around the world.
That Kuchnia Konfliktu serves dishes from around the globe is a result of its mission to help immigrants and refugees who come to Warsaw by providing them with a workplace and facilitating integration. People from different corners of the world come together to prepare unique meals and offer unknown flavors that symbolize a dialogue between those who would not have met had it not been for wars and political conflicts. Every day, the team serves a different soup, main course, and dessert. As you enter, expect plenty of tastes from the Middle East, the Balkans, South East Asia, and Mexico.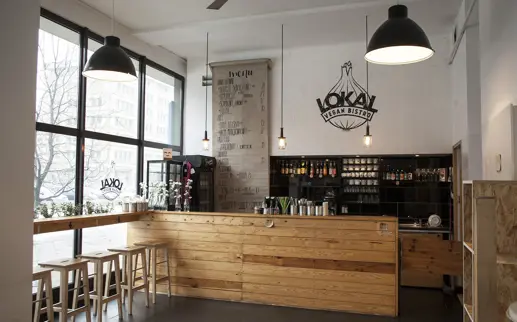 Every two weeks, Lokal Vegan Bistro will surprise you with a plant-based take on traditional contemporary food. The super short menu includes permanent features such as a "pork chop" with potatoes and red cabbage, tartare, and millet cheesecake, but also offers a range of unorthodox blends of Polish homemade cuisine and street foods of the world.
For those of you looking for places where Polish cuisine meets international flavors, we recommend Veganda and Veg Deli. If you are particularly keen on finding gluten- and sugar-free spots, go to Vege Miasto.
Krowarzywa, like any fast food spot, makes for a fast visit. The menu is simple – all you have to do is decide whether you want a burger, a wrap, or a bowl, choose ingredients – ranging from meat-free meat from Beyond Meat to soy delicacies, seitan pastrami, slices of baked vegetables – and sauces. If you feel that what you get will leave you wanting more, you can add potatoes and/or coleslaw to your order. For those who don't feel like composing their own meal, Krowarzywa offers kebab and hot dogs. The place has become an iconic destination in Warsaw and, currently, can be found in four locations.
Zjeść is a newly-opened bistro with an original menu inspired by the flavors from around the world. You will find here a whole range of meat-less meat(s), including "chicken", "sausages", "shrimps", and "beef". If you miss the meaty undertone of umami, this is where you should go.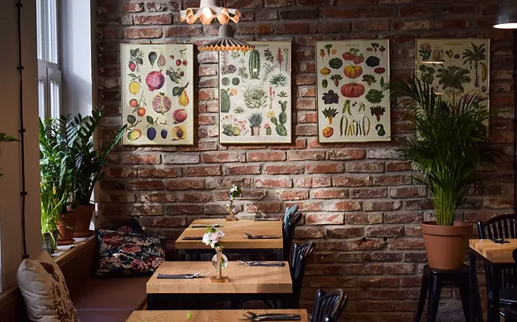 Vegan-friendly
If you eat at Żywa Kuchnia and it is true that you are what you eat, then you exude vitality, make use of your potential depending on your needs, have a strong immune system, and simply look gorgeous. The people at Żywa pay due respect to each product they use, something that is visible in their everyday choices – the use of osmotic pressure, cooking in less than 85°C, the limited use of gluten, the use of high quality ingredients and a zero tolerance for dairy and processed foods. And even though, unlike the places we've mentioned so far, Żywa Kuchnia does serve meat – they deserve a mention because of their respect for vegetables. Also, a vegan tasting menu is served every Friday.
Paloma nad Wisłą is definitely the most Insta-friendly restaurant in this guide. Opened less than a year ago on Wybrzeże Kościuszkowskie, the place offers a view of the Vistula and plates filled with colors that will surely put a smile on your face. What else can you expect? The menu includes fish and seafood, with most dishes having vegan counterparts. The food draws on the richness and diversity of culinary cultures where seafood comes to the fore, but also features locally grown, seasonal vegetables, sweet, exotic fruit and aromatic spices. Try Vegan Tacos with cauliflower in panko batter, coleslaw, pico de gallo, pineapple, chipotle mayo, coriander, and grenade or Balinese soba noodles with oyster mushrooms, Thai basil, chili, and hemp seeds. Dishes with charming titles, including Poles in Thailand or Pak Choy All Day Glory, are perfect to be shared with friends over cocktails, mocktails, mulled wine, spritzers, wine and what not. It may also be worth remembering that Paloma serves breakfasts all day long!
Plant-based desserts
When it comes to vegan desserts, Słodki Bez knows how to do it right. We believe it is the first vegan confectionery to appear in Poland, offering cakes, muffins, mono portions, tartelettes, and macaroons – both on site and to go. (You can also order whatever you like in advance if you are having a party, for example.) Nothing is made with the use of animal products and there are some gluten- and sugar-free options. Go to Coco Bowls if you are looking for a boost of energy in the form of a power bowl or smoothie filled with power foods and active ingredients.
Vegestacja offers natural and vegan ice cream. They are truly amazing in their openness to recreate traditional flavors, seek new compositions, and offer sugar-free choices. Ice cream from Vegestacja is available in many Warsaw-based bistros and healthy food stores. Remember though – the parlor is open only during summer.
Text: Agnieszka Szydziak
Photos: dzięki uprzejmości restauracji
Similiar Articles