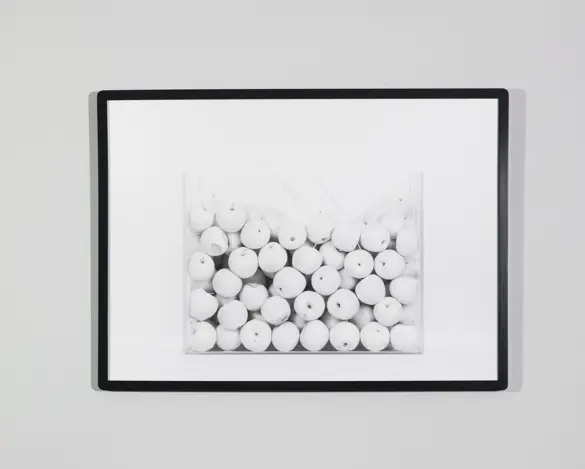 Tomasz Wysocki is a photographer, a graduate of the Film School in Łódź. He mainly works in creative photography, which gives him the opportunity to invent imaginary worlds, without post-production. Wysocki has taken part in many collective exhibitions, such as 45 frames from PhotoVogue, organized by the editors of the Italian Vogue at Leica Gallery in Milan, The National Film & Photo School during Copenhagen Photo Festival, Collection/ASSEMBLAGE at Øksnehallen in Copenhagen, Prima Materia at Design Akademie in Berlin, and solo exhibitions during Łódź's Fotofestiwal, at the Leica Gallery in Warsaw, at the Museum of Opole Silesia, at 1+1 Art Gallery Beijing, during Fotofever Paris at Carrousel du Louvre in Paris, at MIA Photo Fair in Milan, and the AIPAD Photography Show in New York.
In-visibilis #2 (Apples), photograph, 2013
In making the In-visibilis series, the artist was inspired by the Blind clothing series designed by Paulina Ptashnik, created with the visually impaired in mind. Wysocki created a series of photographs on the five senses. The pictures in the Hotel PURO collection explore the sense of taste. Using clothing made by Ptashnik, the In-visibilis tries to speak of the difference in how those with sight and those who are visually impaired use their other senses. Tomasz Wysocki's black-and-white photograph is an open composition with an aquarium tightly packed with apples, painted white and seen from above. The soft light and drained color make it almost an abstract pattern, recalling the work of the post-impressionist maestros.