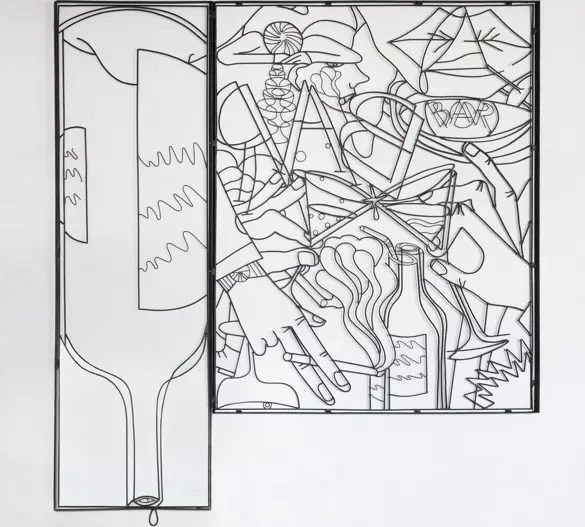 Tomasz Kowalski is a painter, drawer, a creator of collages, machine-objects, installations, and videos who lives in Warsaw and Berlin. He graduated from the Academy of Fine Arts in Katowice. As a student, he joined the group of artists represented by Berlin's prestigious carlier-gebauer gallery. The critic Jakub Banasiak placed him among artists he called "exhausted by reality." They were said to have abandoned everyday experience, turning toward a Surrealist and oneiric aesthetic. Kowalski's painting has an original language that draws from the history of the medium. He is a member of some ephemeral bands: Anna Dymna Ensemble and Masters of the Universe. In 2014, he won the Guerlain Foundation Drawing Award. His work is found in the collections of the Centre Pompidou, MUMOK, and MOCAK. He is represented by Warsaw's Dawid Radziszewski gallery, carlier-gebauer in Berlin, and Tim Van Laere Gallery in Antwerp.
BBAARR, painted steel, 2014
The BBAARR installation was specially created for the As You Can See: Polish Art Today exhibition at the Museum of Modern Art in Warsaw in 2014. It draws from artistic crafts: decorative window bars, gates, and fences. Kowalski explores metalwork in the hostile terrain of contemporary art. He uses steel wire to sketch the history of a made-up, eccentric bar. This work is a perfect fit for the space of the Loreta Bar in Warsaw's Hotel PURO.