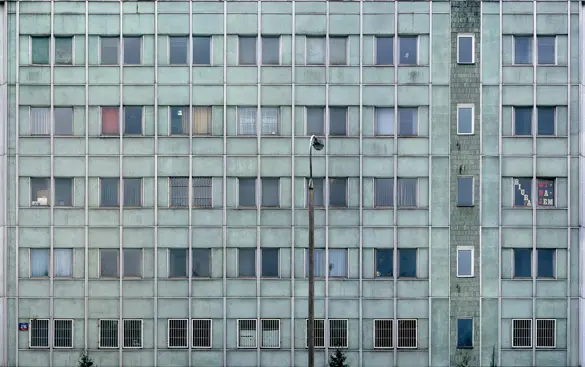 Nicolas Grospierre is a visual artist and photographer tied to Warsaw. He has studied political science and sociology in Paris and London. His work focuses on documentary projects that explore collective memories and hopes connected with modernist architecture. Another side of his practice is conceptual photography, stressing intellectual play, while presenting attractive images that appeal to the senses, and even installations. Grospierre won the Gold Lion at the 11th Architecture Biennale in Venice in 2008 (with Kobas Laksa) for the Hotel Polonia exhibition at the Polish Pavilon.
Celadon, Colorblocks series, photograph, 2006
Colorblocks is a series of photographs of buildings covered in emalit, a synthetic, non-transparent, colored glass used in construction in Western Europe and the "Eastern Bloc" countries in the 1960s and 70s. The photographs are composed in a modular fashion, emulating the emalit glass panels. Although the buildings presented actually vary, their photographs have been manipulated to give their elevations the same proportions and the same number of floors. The only recurring motif is the color of the elevations. The emalit panels are among the last heirs of the modernist tradition in architecture, in which simplicity and functionality were cardinal values. The low quality of the emalit glass makes this a "degraded modernism," which has lost its former shine. Grospierre's Colorblocks are far from a critique of modernism in architecture. The project uses the grammar of modernism to show its limitations, but has plenty of fondness for this architecture and buildings photographed.