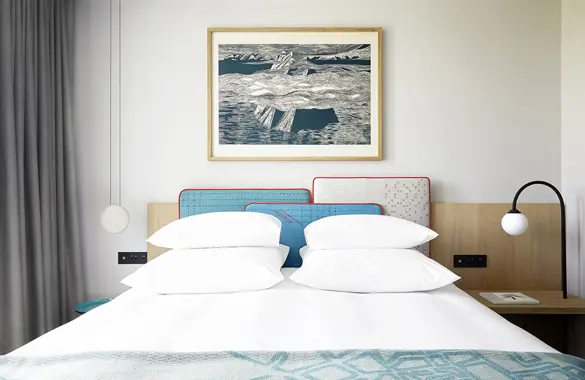 Marta Bożyk is a graphic designer, visual artist, and a lecturer tied to Krakow. In 1998 she graduated in printmaking from the Academy of Fine Arts in Krakow. In 2013 she took her PhD, and is presently working as an assistant at her alma mater. She mainly works in linoleum print and woodcut techniques, but also does graphic design and stained glass. She has received awards at the International Print Exhibition in Taichung, Taiwan and the International Triennial of Art Bitola in Macedonia. In 1999 she initiated the creation of Group 13, assembling graphic designers and photographers.
Iceberg, 2016, lithograph
Iceberg is a lithograph by Marta Bożek from her Landscapes series, in which she explores the motif of the seascape. She reduces it to simplified, organic lines and "zig zags," leaving monochromatic white and navy blue fragments. The varied thicknesses of the wavy lines make the dynamic of the whole composition disquieting. Might it remind us of a post-human world and the impending climate catastrophe?