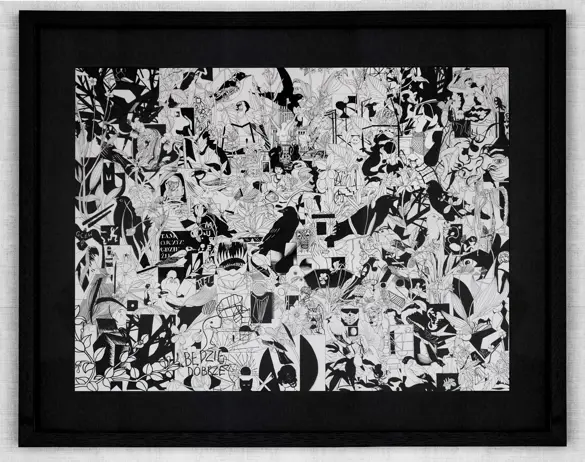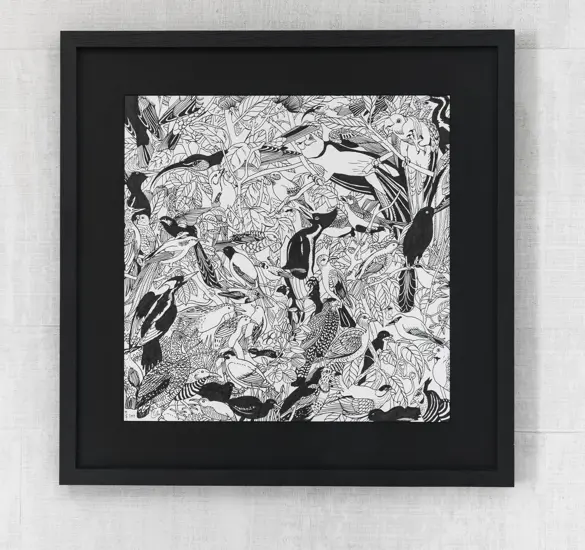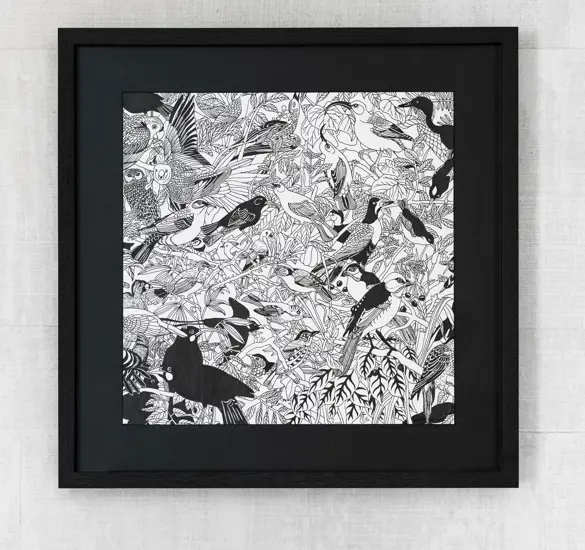 Mariusz Tarkawian is a painter, print maker, and drawer. In 2009 he graduated from the Faculty of Arts at Marie Curie-Skłodowska University in Lublin. He observes, records, and comments on reality with pencil, chalk, and pen, making thousands of quick sketches to note events, thoughts, references, reviews, and fantasies. He has made such vast series of drawings as Looking for Art, In Anticipation of Art, Tribute to?, Peeped Drawings, Art Masters...Maybe, murals including The History of Cartagena, made during the Manifesta 8 European Contemporary Art Biennale in Spain, and numerous comics. In 2009 he received a Kaiserring scholarship in Goslar in Germany for his outstanding achievements. He lives and works in Warsaw.
Untitled, ink on paper, 2019
These black-and-white prints are made with ink on paper. They are dynamic compositions, filled with  overlapping parts—outlines of birds and plants appearing in Warsaw. These are skillfully joined with images from well-known contemporary works of art, by Monika Sosnowska or Paweł "Glum" Żukowski. Tarkawian believes that spending time with art in the big city can replace spending time in nature. Looking at art is contemplative and meditative, much like a walk through the forest. In art galleries, he himself often feels like an ornithologist observing birds.