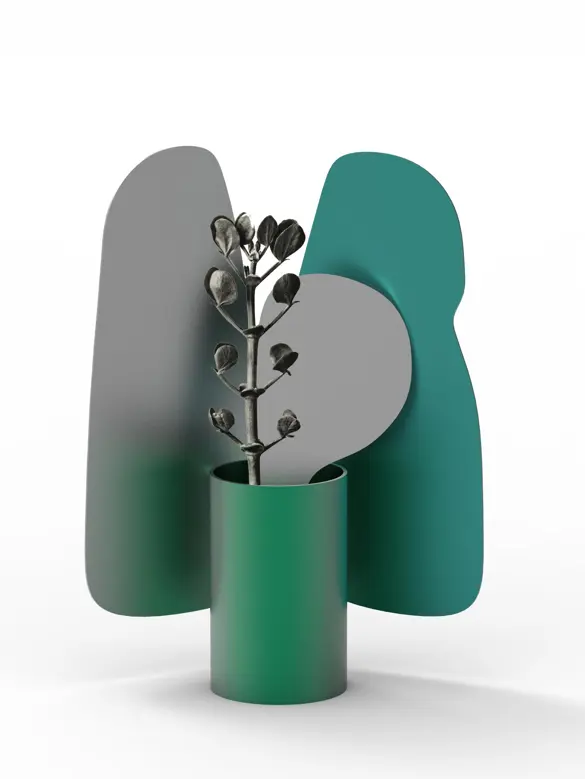 Maria Jeglińska is a designer with ties to London. She was born in Fontainebleau, France, in 2007, and completed a course in industrial design at the École cantonale d'art de Lausanne in Switzerland. She received a scholarship from the IKEA Foundation, allowing her to begin work at the Galerie Kreo in Paris, Konstantin Grcic in Munich, and Alexander Taylor in London. In 2010 she founded her Office for Design & Research in London, specializing in industrial design, research projects, and designing exhibitions. In 2012, she curated the Points of View / Points of Sitting exhibition at the Łódź Design Festival. In 2016 she co-curated the Polish Pavilion at the London Design Biennale, whose main theme was utopia. Between 2018 and 2020 she was the creative director of the ARENA DESIGN fair in Poznań. Her work has been presented at Villa Noailles, Aram Gallery, Barbican Art Gallery, Centre Pompidou Metz, and Triennale di Milano.
Butterfly vase, powder-coated steel and aluminum, anodized aluminum, glass pipe, 2019
The Butterfly vase is made of a steel pipe and aluminum wings attached with black screws. The shape and construction details are an integral part of the vase. This form is meant to create a small architectural piece and a backdrop for the flowers. It is not entirely symmetrical, which makes it an intriguing "space" for displaying plants.