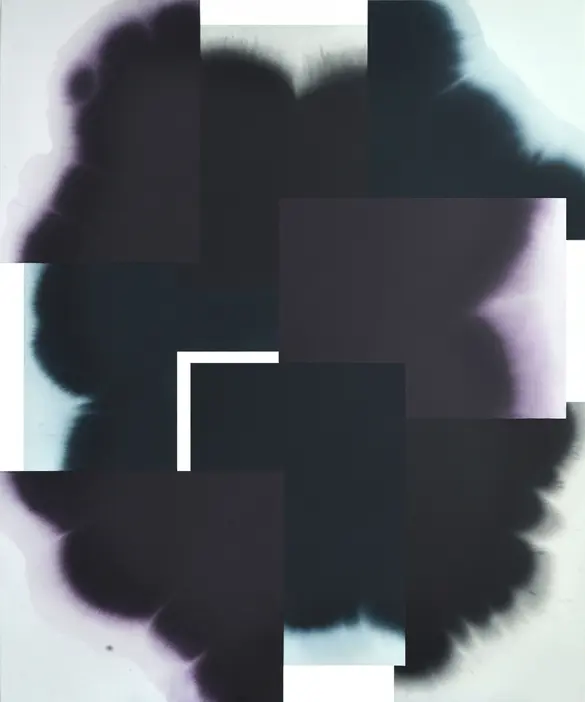 Małgorzata Szymankiewicz is a painter, visual artist, and professor with links to Poznań and Szczecin. She graduated from the Academy of Fine Arts in Poznań. In 2019 she took her post-Doctorate at the Academy of Fine Arts in Katowice. She is presently a professor at the Academy of Fine Arts in Szczecin, where she assists in a painting studio. She is interested in conceptual and formal issues, the tradition of Polish and international abstract painting. She is represented by BWA Warsaw gallery and Wagner + Partner Gallery in Berlin. Her work is found in the collections of the National Museum in Gdańsk and Poznań, Zachęta in Szczecin and Poznań, Bielska BWA Gallery in Bielsko-Biała, the Pizzuti collection in Columbus, USA, the Contemporary Art Branch of the National Museum in Szczecin, and the Pekao Project Room collection in Warsaw, as well as private collections in Poland and abroad.
Untitled 280, 2020, acrylic on canvas
The large-format Untitled 280 was presented at the Strategies of the Gesture exhibition at the Philharmonic in Szczecin. Szymankiewicz's abstracts use techniques drawn from the collage and post-production of digital pictures—tracking, adding, overlapping, multiplication, and other mutations. Her pictures are collage-like and fragmentary. They have a sense of loss and a nostalgia for a coherent whole. They are the result of a "sharp cut," a destructive force that shreds the painted form into smaller parts. Szymankiewicz explores issues in modernist painting, such as the system, or the "network/web," seeking their meanings in various contexts.