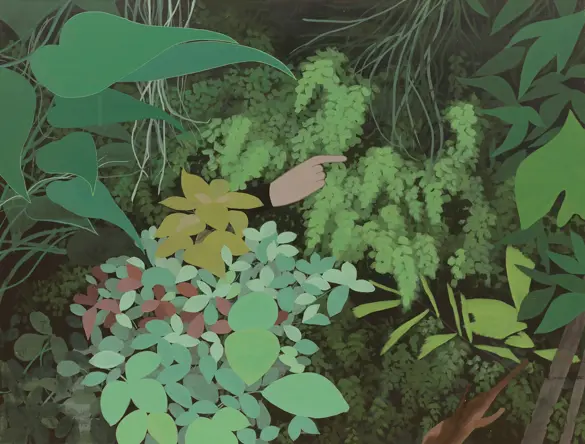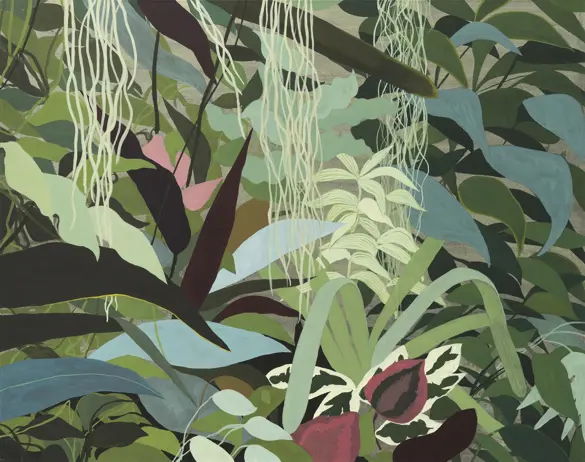 Magdalena Karpińska is a visual artist, a painter and illustrator tied to Warsaw. She graduated from the Academy of Fine Arts in Warsaw. She mainly paints, draws, and works on textiles, mostly silk. She explores how nature carries emotions, symbols, religions, and politics. She treats works as visual puzzles. The forms in her pictures smoothly pass from realism and the observation of nature to its deconstruction, to the organic abstract. Karpińska uses the forms of the surrounding nature, their hidden meaning and mutual relationships. She is represented by the Polana Institute gallery.
Untitled, tempera on paper, 2017
Untitled, tempera on paper, 2017
These pictures come from a series created after the artist visited northern Italy. They were inspired by Europe's oldest botanical garden, in Ferrara. One of the pictures has a hand motif, a reference to the manus dei, the oldest and most frequently encountered symbol of god in ancient art, signifying his interference to human affairs. The artist was fascinated by this symbol, which has appeared at many junctures in art history. The hand prohibits, orders, threatens, and comforts. It is seldom anatomically correct, it recalls a contemporary emoticon. It is a symbol of human hope based on pre-established principles, expressed in a visually absurd manner.
Untitled, art print, 2018
This print makes reference to the old Vistula river bed, which ran along Dietla street until the nineteenth century, separating the Kazimierz district from the rest of the city and making it an island. A central motif of Karpińska's pictures is the world of nature, with its complex natural and physical phenomena. Karpińska's pictures often take one motif from a historical piece and develop it formally and intellectually. This process leads to visual riddles. Her works blur the boundary between staring, observing, and reading. On the one hand, they play with reception in terms of the psychology of viewing and a familiarity with the history of Western European painting; on the other, the artist tries to return to the basics of making pictures, exploring perception through the lens of pure visuality.