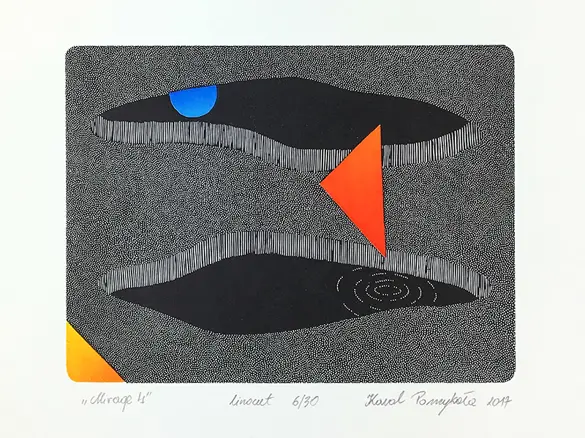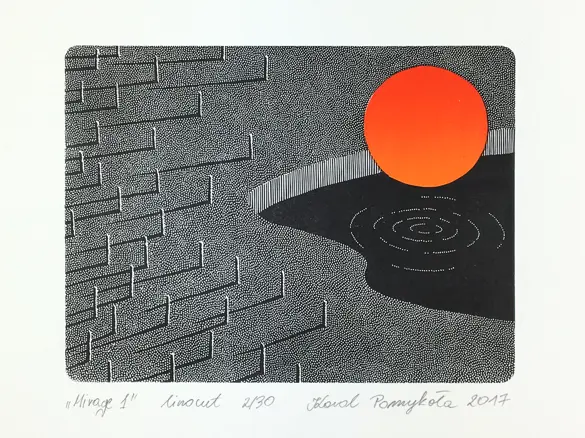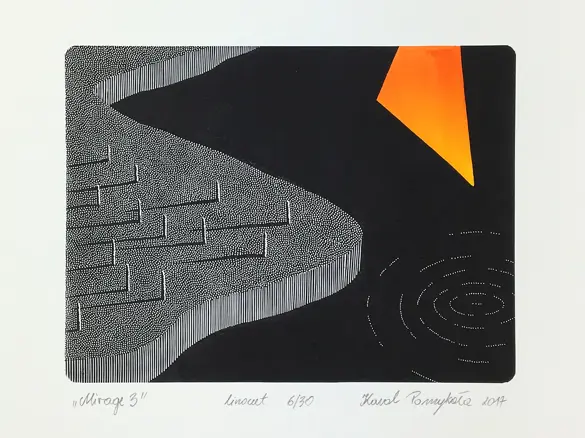 Karol Pomykała is a visual artist, graphic designer, and lecturer. He graduated from the Faculty of Arts at the Marie Curie-Skłodowska University in Lublin, where he took his diploma from the studio graphics workshop, and later did a PhD. At present he lectures at his alma mater and runs studio graphics and graphic design courses. From 2010 to 2019 he worked as art director at Saatchi & Saatchi in Warsaw. At present he runs his own studio in Warsaw's Mokotów. He mainly works in linoleum print technique, joining graphic art tradition with new technologies. He also works in digital art and advertising. He has taken part in many national and international exhibitions, including the 7th International Ulsan Woodcut Festival in Korea, the 6th Guanlan International Print Biennial in China, the 10th and 11th International Graphic Arts Prize Jesus Núñez in Spain, and the International Print Triennial in Turkiye, Austria, Sweden, and Krakow. He has received many awards and distinctions, foremost among them the Grand Prix at the International Graphics Triennale in Krakow in 2018.
Mirage1, linoleum print, 2017
Mirage3, linoleum print, 2017
Mirage4, linoleum print, 2017
These three prints from the Mirage series were made with linoleum prints, which, although not the oldest print-making medium, has a creative dynamic similar to the more historical woodcuts. The artist creates abstract compositions in which fine black-and-white patterns prevail. His compositions suggest vast empty spaces. Sometimes he adds evenly arranged, elongated human figures, reminiscent of the sculptures of Alberto Giacometti or Magdalena Abakanowicz. This time Pomykała has filled his pieces with colorful, geometric, gradient forms, giving the impression of alien creatures visiting a lunar landscape. These works explore the riddle of the fata morgana, the mirage of the title. This phenomenon occurs through an intense heating of the air and generally while gazing at the horizon.