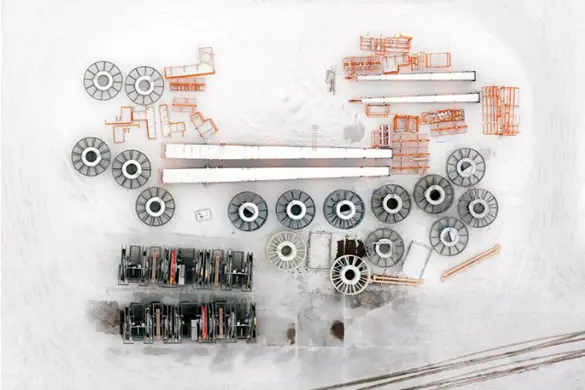 Kacper Kowalski is a photograph, architect, and pilot tied to Gdańsk. He specializes in landscape photographs from a bird's-eye perspective. He has received many prizes, including three World Press Photo awards, and six Picture of the Year International awards. He has written such photography books as Side Effects (2014), OVER (2017), and Arché (2021). His works have been displayed at many collective and solo exhibitions around the world, and his books have won and been nominated for the most prestigious prizes, including the Les Prix du Livre at the Les Rencontres d'Arles festival. He is represented by Panos Pictures, the REZO agency, galerie Bildhalle in Amsterdam and Zurich, and Atlas Gallery in London.
Toys for Boys, 2013, photograph, series 7
In Toys for Boys, Kowalski looks at the industrial history of the city and places that are of special importance in Poland's contemporary sociopolitical history. The photograph shows disassembled cranes from the famous Gdańsk Shipyard. They are taken from a bird's eye view, from a great height, so that the viewer mainly sees the geometrical patterns and symmetries they make. They resemble blocks and children's toys. Yet the story this photograph evokes is much less positive—it speaks of collapse and the unpredictable outcomes of the system transformation.