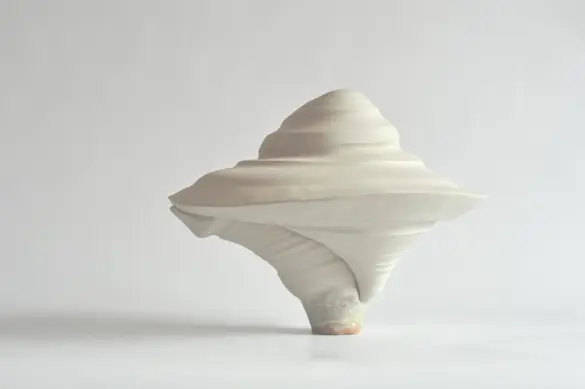 Alicja Patanowska is a visual artist, designer, and ceramic artist tied with Wrocław and London. She graduated from the Academy of Fine Arts in Wrocław in 2012 and the Royal College of Art in London 2014. Her products are available at Merci in Paris, Barbican Center in London, Museum of Modern Art in New York, and Deutsche Bank Kunsthalle in Berlin. Her awards include the Gazeta Wyborcza WARTO, the British Glass Biennale, and the must have! poll, and her works are featured in such art and design collections as the Shanghai Museum of Glass. Her art and design incorporate artisan skills. Work with the material is central to her practice. The visual simplicity of her works, whether functional or decorative, conceals a great many personal and cultural references.
7.1.2 ∞, 2009, pottery wheel, sculpting techniques, gas oven
Ceramic titled 7.1.2 ∞ is from Infinity series from 2009.  They have twisted, dynamic, almost frozen forms. They are not covered with colored glaze, they remain rough, displaying the beauty and refinement of the clay. The collection of abstract sculptures is made from various kinds of ceramics. The forms from this series came out of exploring the limits of the material. The artist tries to show the hidden poetics of the traditional pottery wheel. She calls it design in action, which focuses on the laboratory work, the manual experimentation with the materials.