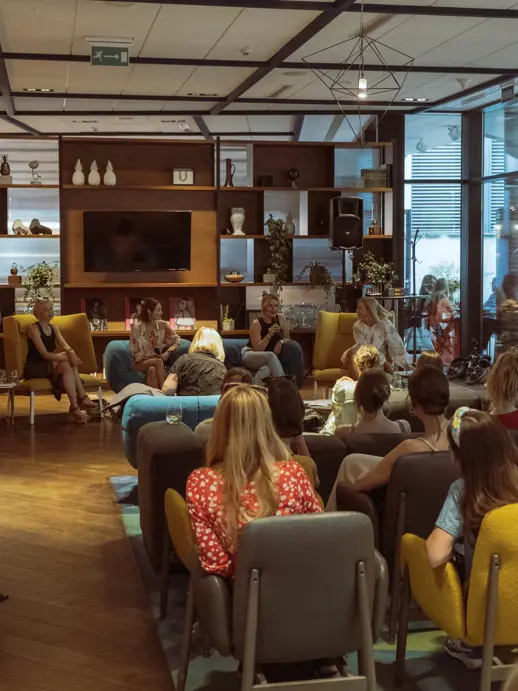 September 16-17, 2023
all day (in Polish)
SATURDAY, September 16, 2023
12:30 - 17:30 (for registration)
Photo session - How to take a successful photo for your CV?
During the workshop, we will create a special space for a photo session for our participants. Together with Zalando, we will help you prepare for the session, and then we will take professional business photos
12:30 - 13:30
"I have this power!" – Agata Stola (psychotherapist and sexologist, Instytut Splot)
Young mothers often have to deal with the guilt of not being able to give their child enough attention and time due to work commitments.
13:45 - 15:00
We don't have to give advice - discussion panel with experts
Led by: Aleksandra Sudolska (president of the Local Girls Movement)
Guests: Joanna Dąbrowa (PURO), Agata Wlazło, Joanna Malinowska
A conversation devoted to an attempt to deconstruct the contemporary role and image of the mother, depriving it of the features that accompanied previous generations: heroism, sacrifice or fear accompanying choices in the context of thinking about oneself.
15:30 - 17:00
The law for moms is simple!
Meeting about the rights of women who decide to become mothers with an expert in labor law (legal advisor, Marta Rolirad, @proste_to_prawo)
SUNDAY, September 17, 2023
11:00 – 11.45 Let's talk about women's friendships above divisions. How to create space for dialogue between moms and non-moms. The meeting will be prepared based on the ideas of the Good Life Concept women's community.
12:00 - 13:30
The Strength of Sisterhood - workshop Workshop leaders: Karolina Olszak (Local Girls Movement), Marta Majrzchak (Herstories), Sandra Fabrysiak
During the workshop we will learn, among other things, what the idea of sisterhood is, what research results say about the benefits of practicing this idea, and how to practice sisterhood on a daily basis.